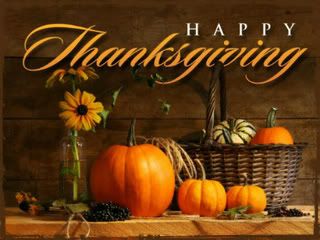 H
appy Thanksgiving to all those who celebrate! I hope that those of you who don't are having wonderful Thursdays!
It is decidedly strange to be sitting at work on a day when I know the majority of my friends and family are already rushing around preparing amazing Thanksgiving meals. I keep thinking of all of you and wondering what you're doing. In case you're wondering, I'm writing up a report on my observations in one of my classrooms.
Tonight, we're hosting a mini-Thanksgiving dinner. I'll be cooking a roasted turkey breast with stuffing and will serve sides of potatoes, brussel sprouts and cranberry sauce. There's already a pumpkin pie chilling in the fridge, waiting for whipped cream. It will be much smaller than I'm used to. We won't have all the foods that I usually serve. We don't even have enough chairs for the dining table. But it will be glorious.
Somehow, amidst all my homesickness, I forgot why I love Thanksgiving so much. Yes, it's a lot about the fellowship and there's no denying I'm missing my fam and

kiribaby
's fam right now, but I have my most important family here with me. But truly, it's about giving thanks and, man, I have a fuckton to be grateful for. My life is richly blessed and when I really stop to think about it, I am overcome with gratitude and joy.
So today, when I'm so far away from one of my homes, I'm there with all of you in spirit. I'm with those of you who are feeling extra lonely this holiday and those of you who are celebrating with new loved ones. I'm with those of you who have to work and those who can't find work. We are all where we are on our journey and wherever that is, it's perfect. I hope all of are able to find your multitude of riches today, however small they might seem.
Happy Thanksgiving, my lovelies. May your days be filled with love, laughter and gratitude.